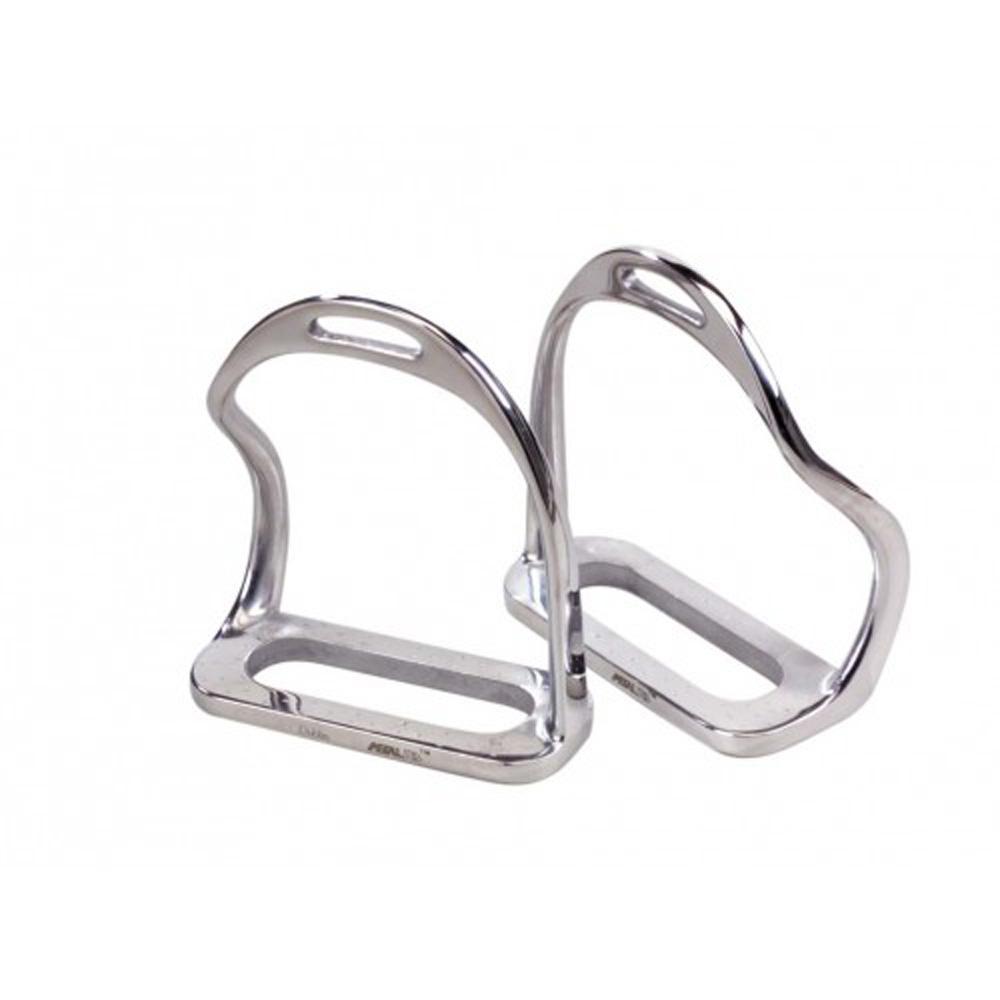 Bent Leg Irons
These Korsteel safety irons are made from a high quality stainless steel. These are Swan/Bent leg stirrup irons which are purposely shaped to allow for the riders foot to be released easily in case of a fall.
Available sizes 4″ – 5″
£30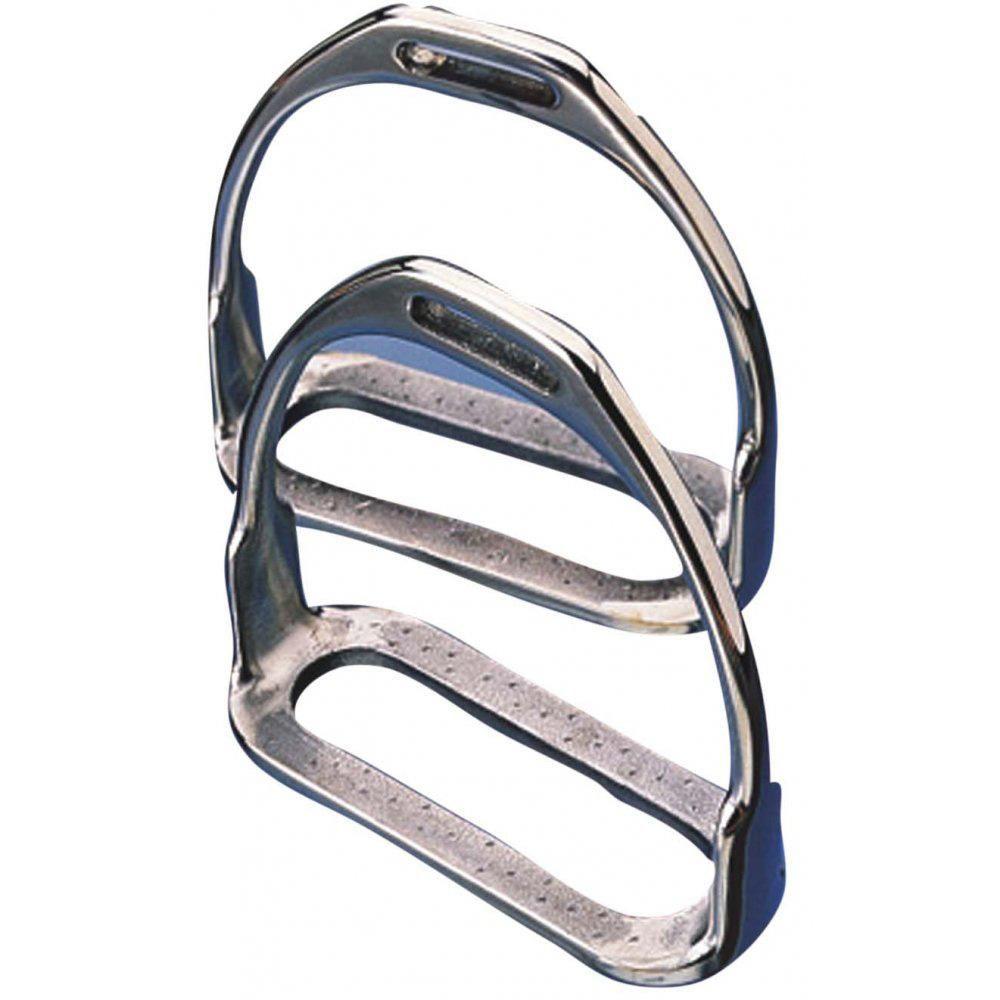 The two bar stirrup Iron
The two bar stirrup iron is a classic English stirrup iron often seen on the hunting field and in the show ring. A neat and relatively lightweight stirrup iron, the two bar is stainless steel in construction for strength and durability
Sizes  31/2″ – 5″
£27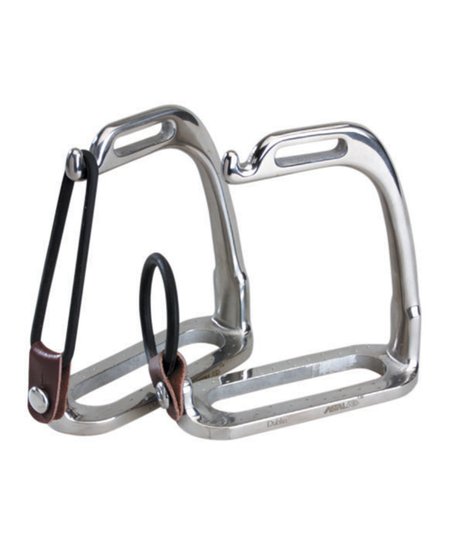 Peacock Safety Irons
These Korsteel Peacock Safety Stirrups feature a quick release rubber band that disconnects in the event of a fall, and therefore less likely that the rider's foot will get caught. These stirrups are perfect for children or beginners and come in 6 different widths.
Available 4″ – 43/4″
£31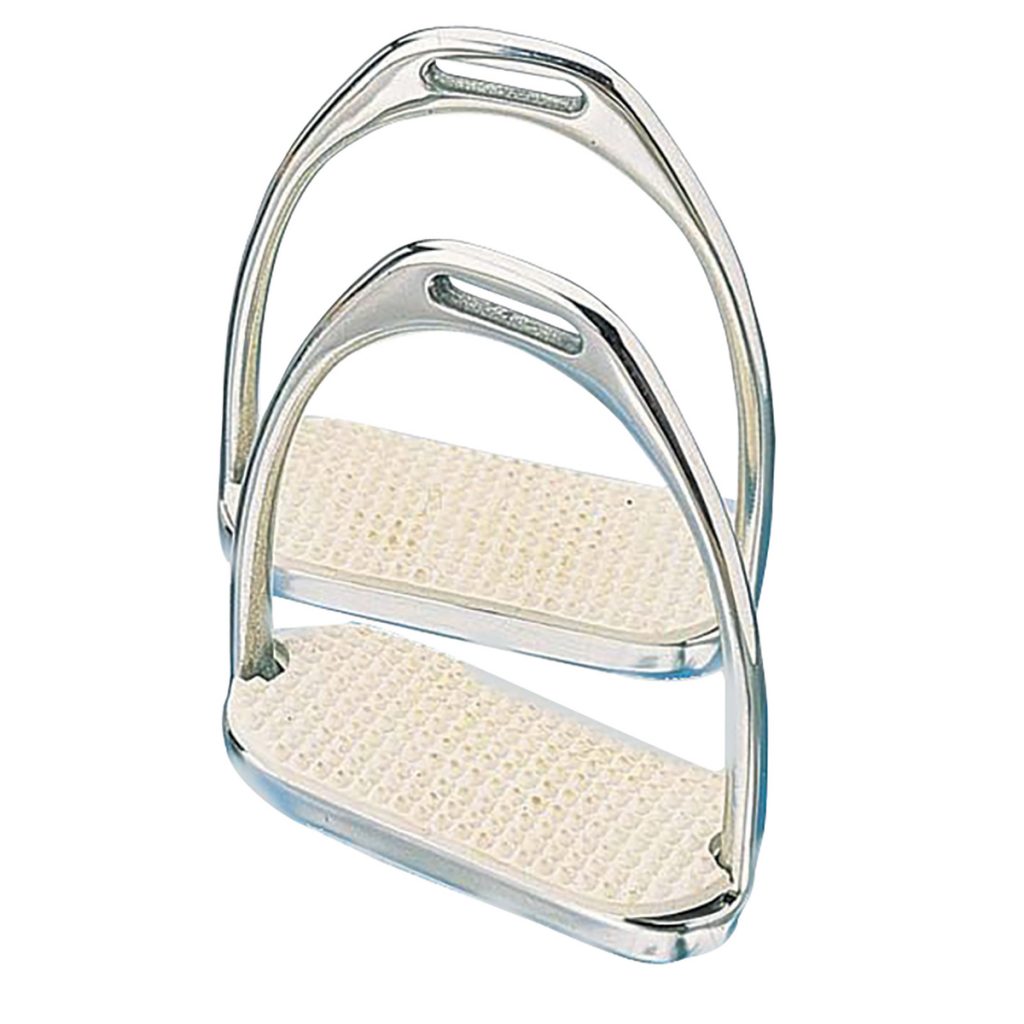 Knife Edge or Fillis Irons
Traditional stainless steel stirrups
These Korsteel Knife Edge Stirrups are quality stainless steel irons which are suitable for all types of events and come with a pair of rubber treads
Available in sizes 41/4″ – 5″
£40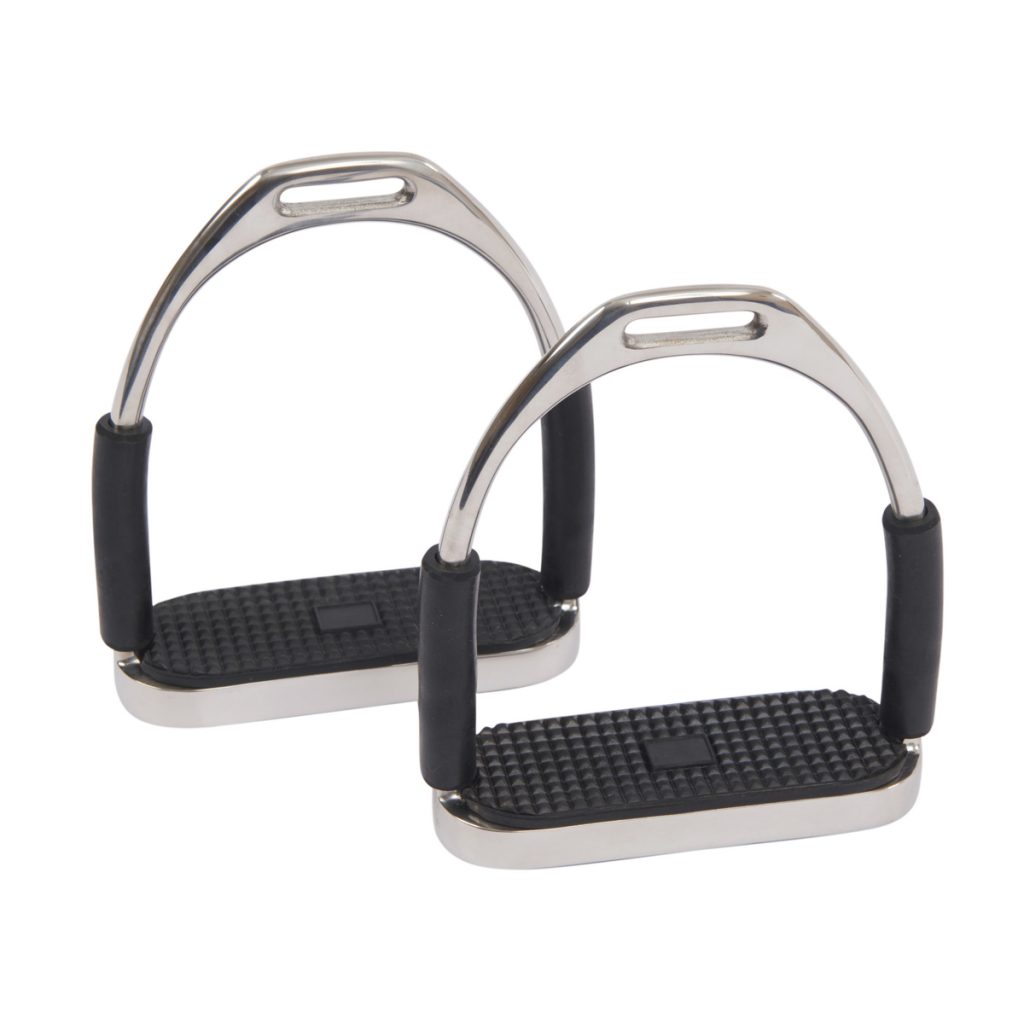 Flexible Fillis Stirrup Irons
These Korsteel Flexible Fillis Stirrup Irons are a stainless steel stirrups that allows forwards and backwards movement helping to relieve pressure on riders joints and also aids correct leg positioning.
Korsteel Flexible Fillis Stirrup Irons features:
Stainless steel stirrups
Allows forwards and backwards movement
Helps to relieve pressure on riders joints
Aids correct leg positioning
Available 41/2″, 43/4″ & 5″
£50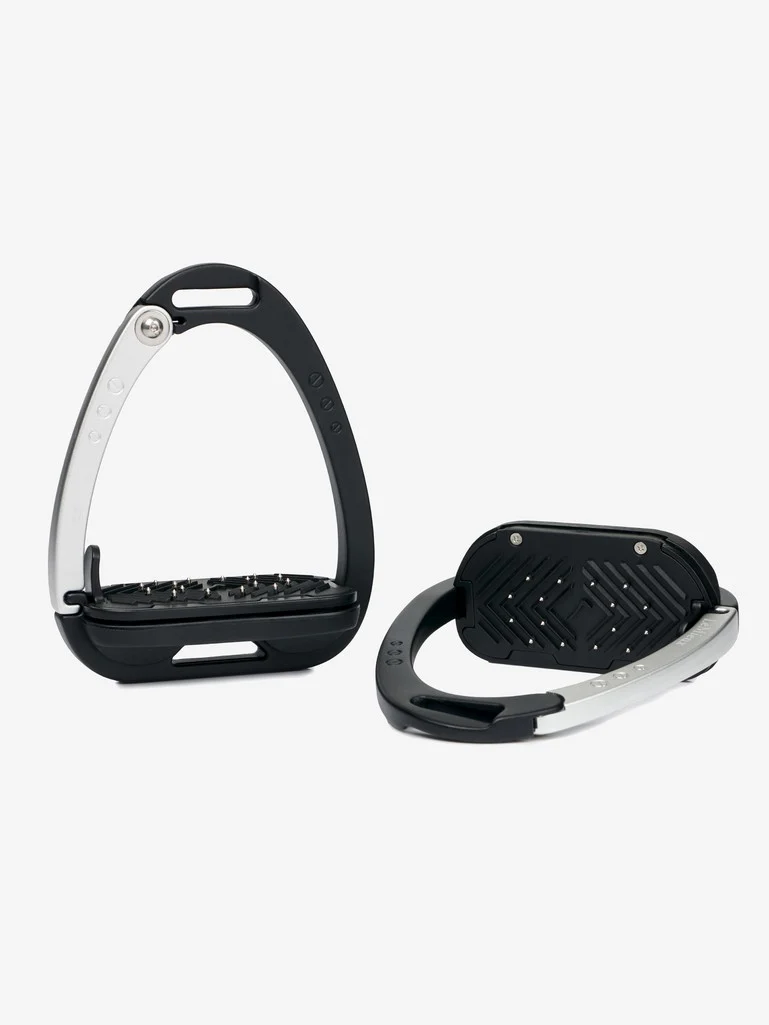 Le Mieux
Vector Balance Control Safety Stirrup
£160
The LeMieux Vector stirrups are a new generation of stirrup – technically advanced and lightweight, but retaining a classic style expected from LeMieux
Machined from aviation grade aluminium offers an impressive strength to weight ration, making them lighter than most stirrups on the market at just 419g each, whilst not compromising on stability.
The ergonomic footplate of the Control Stirrup is set at 0 ¼ with a cross-track grip surface with embedded hardened steel pins to provide maximum security of the boot.
The footplate is supported by a twin balance arch system that distributes the weight evenly across the base of the stirrup frame. The apex of the frame is recessed and off-set, encouraging a 45 ¼ outward orientation which makes it easier for the rider to locate the optimum angle for the foot and regain a lost stirrup.
An integrated hinged arm has a two-stage release system, preventing unintentional opening. The spring loaded arm locks into the base of the main frame meaning that when under maximum pressure, such as landing over a fence, the rider's weight is spread evenly across the stirrup, preventing the outside dropping and flexing. When pressure is put onto the arm of the stirrup, the arm releases allowing the foot to come out of the stirrup and minimising the risk of it getting stuck. The stirrup arm breakout force = 36N (equivalent to 3.62kg) in testing meaning enough resistance to stop it opening unintentionally, but will release when needed.
Competition Legal (FEI, British Dressage, British Eventing and British Showjumping)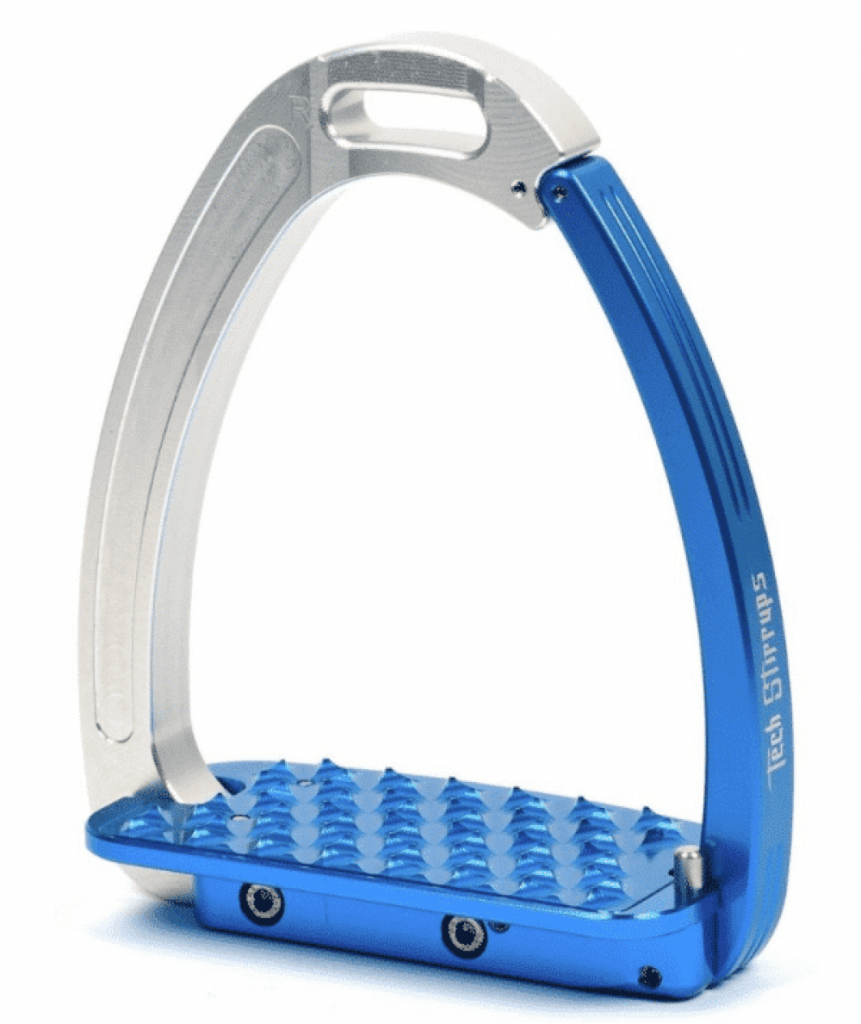 Tech Safety Stirrups 
The Safety Tech Stirrups "Venice" have a unique and revolutionary magnetic mechanism positioned on the tread.  This allows, in case of an emergency, the opening of a ring portion, allowing your foot to escape and not get caught in the stirrup. After which the mobile part automatically returns to its original position.  This prevents dragging and potential fatal accidents.The mobile part is hooked to the tread and joined to the ring by a magnet that does not allow it to move during the work but allows it to open only if a certain weight load is exceeded.
AS ALL THE PATENTED TECH STIRRUPS ARE ENTIRELY PRODUCED IN ITALY.THE TECH STIRRUPS ARE MADE FROM ALUMINIUM BILLET AND FITTED WITH STAINLESS BLOCKED SCREWS. THEY ARE TREATED WITH A 20 MICRON ANODIZATION TO PRESERVE THE AESTHETIC QUALITY.Colours Black, Silver, Blue, Red or Gold
One Size
£275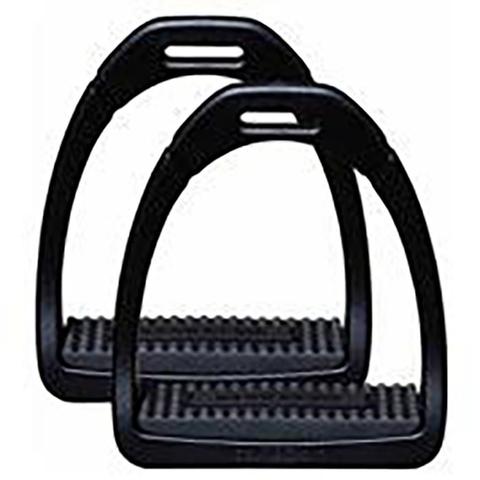 Shires Compositi Adult Stirrups  
These Compositi Premium Profile Stirrups are elegant, lightweight and strong. The sleek Premium Profile Stirrup can be customised to coordinate with the rider's colours . Reinforced grip, high resistance to stress, interchangeable coloured tread. These premium stirrup irons are designed by Compositi, a Belgian company who specialise in lightweight technical equestrian products.
We sell them in black.
£22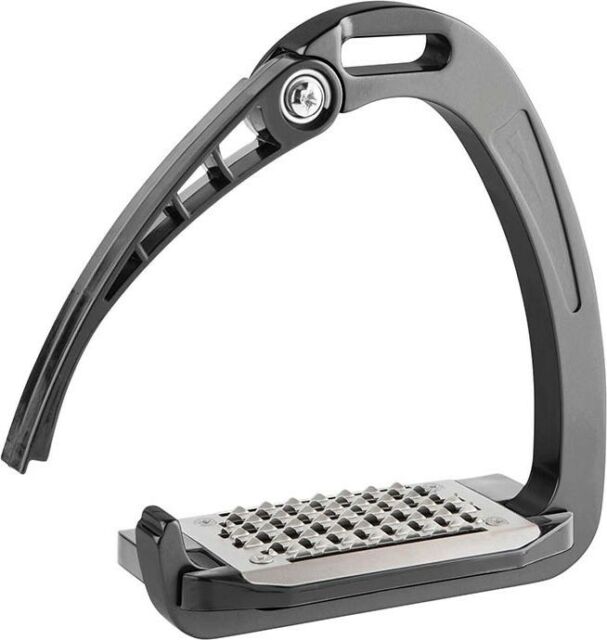 Acavallo Arena Alupro Stirrup RRP £140
Patented side opening safety stirrup.
Unique HiFLex stress activated locking & release mechanism with big opening in case of emergency.
Reliable "one click" reengagement of the stirrup locking and release mechanism once triggered.
Inner stirrup arm and footplate constructed of continuous integrated metal.
Comprehensively tested and safety certified by TUVRheinland in Germany
One Size
We stock Titanium but we can order any other colour.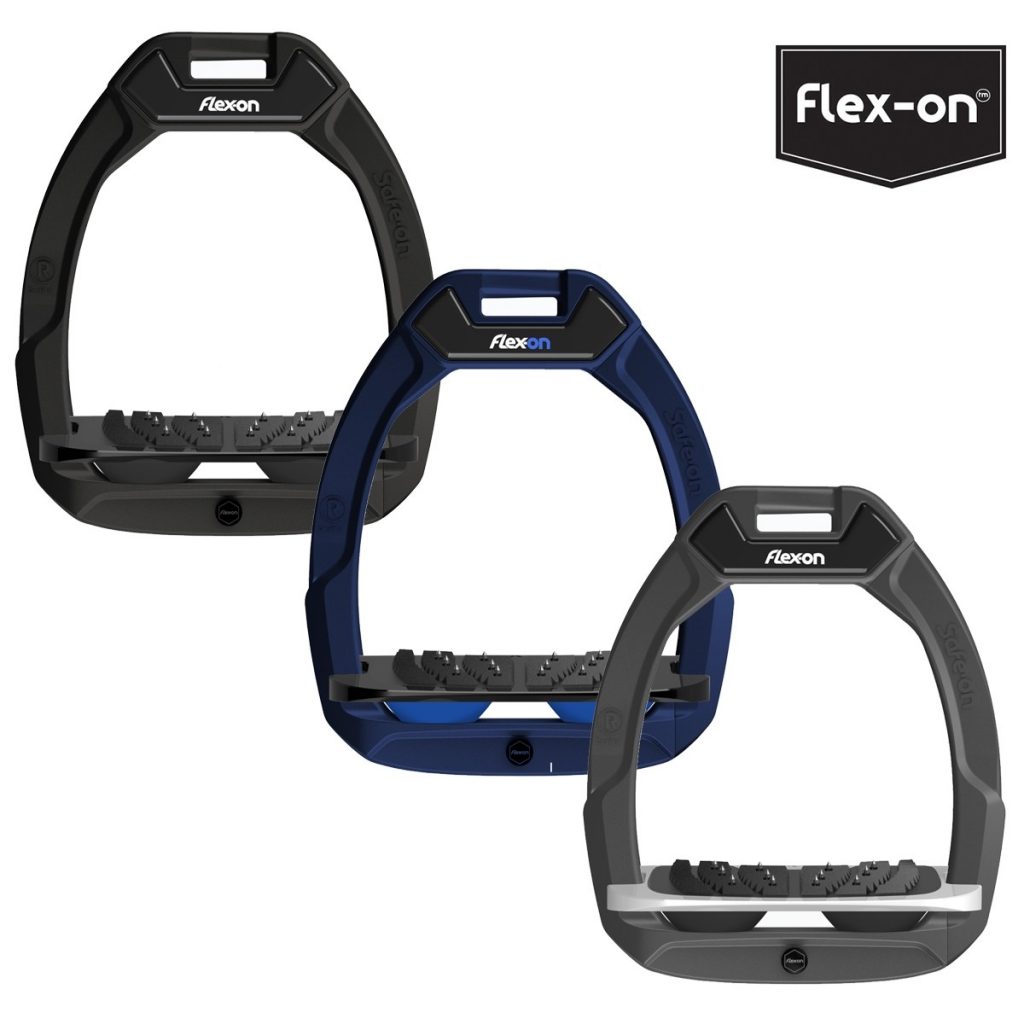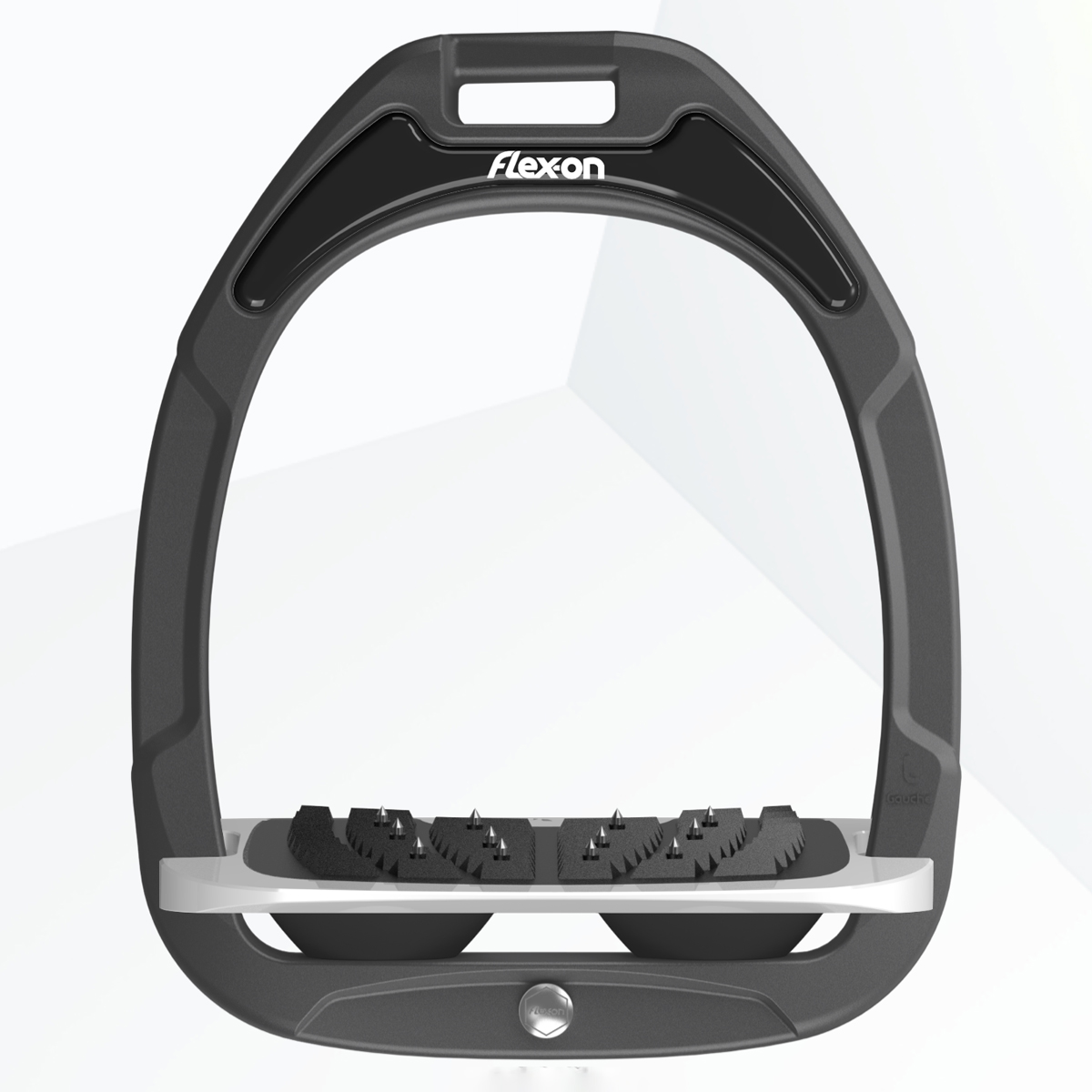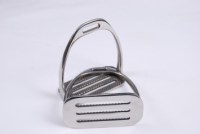 FLEX-ON SAFE-ON INCLINED ULTRA-GRIP STIRRUP
Features include:
Designed from an organically sourced polyamide material
Green Composite stirrup is designed on the same model as the Aluminium Flex-on stirrup
It can be cleaned with water and is therefore easier to maintain
Aimed at a wider range of riders
Safety stirrup that's easy to screw back together if you're unlucky enough to have a fall and the safety mechanism comes into play
Available in different colours.
FLEX-ON SAFE-ON GREEN COMPOSITE ULTRA GRIP
RRP £186
The Flex-on Green Composite Stirrups are the perfect choice for all riders, combining comfort, performance and style! This innovative design is manufactured with a single piece steel core and coated with an organically sourced polyamid material and integrates the shock-absorbing flex-on system to guarantee upper protection of the young athlete's body. This structure protects against the risk of breakages.
This design also helps to prevent injury, by minimising the pressure put on joints caused by the movement of your horse, thanks to the built in elastomer springs. The treads rest on the elastomer springs and are ergonomically designed with offset stirrup leather slots for a better connection to your horse and increased comfort.
Inclined treads enhance the naturals 'heels down' position, providing increased stability and perfect positioning of the leg, while the Ultra Grip footbed is made from moulded POM with crimped pins made of hardened steel.
Easy to clean (simply wipe with water!) and available to customise in a range of colours, the Flex-on Green Composite Stirrups are the ultimate choice for both everyday and competition use.